Why Predire
Predire is a small test institute with a deep pool of experience. Our staff are happy to take responsibility, and we are flexible, innovative and cost-efficient. In our test centre we run a wide range of tests, simulations, samples and analyses. We make decisions quickly if investments are required to allow a specific kind of testing.
About us
Predire Testcenter AB is an independent test institute that focuses primarily on business segments such as automotive, airspace, energy, electronics and the medical industry. The test centre was founded in 1995, and in 2002 Predire opened its first internationally based laboratory in Germany. Three years later, the Swedish arm of the business moved from Svängsta to Sölvesborg, where its main facility is still based today. Over the years, the company has also opened new test centres in Gothenburg and Olofström, Sweden, as well as in the Chinese city of Shanghai. Today, Predire is an accredited test centre in both Sölvesborg and Germany.
Predire – we test to stretch the limits.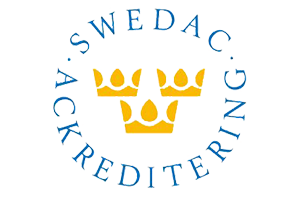 SWEDAC MAKES EVERYDAY LIFE SAFER
Swedac is a government authority with the objective of making products and services safe and reliable.